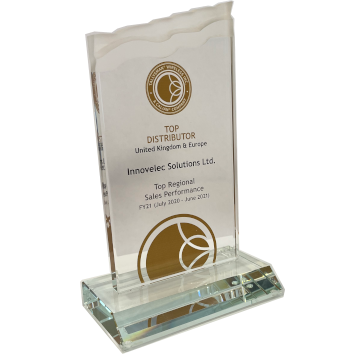 Tallysman is pleased to announce that Innovelec Solutions has been awarded the Top Performing Distributor Award for the UK and Europe region for the second year in a row. Innovelec Solutions were given the award for their continued outstanding sales achievement and technical support efforts. Innovelec has had a very long standing relationship with Tallysman that spans over 12 years and this has proved to be a mutually beneficial business partnership for both companies.
"Our long standing distribution channel partnership with Innovelec Solutions has strengthened Tallysman's commitment to better service our regional customers in the UK and Europe. Innovelec Solutions brings knowledgeable sales, technical support guidance and product stocking to Tallysman GNSS antenna customers across the region. Tallysman's Top Performing Distributor Award recognizes outstanding business achievement during this past year and a small gesture of our continued gratitude.  Our friendship which has developed with Innovelec Solutions has helped us increase our support of numerous GNSS applications where precision antennas are playing an ever-increasing crucial role." said Christopher Russell, Director of Distributor Sales, Tallysman. 
"Winning the Tallysman Top Performing Distributor Award once again is testament to the hard work of our staff and the relationship that we have built with our customers over more than 10 years. Tallysman offer a world class range of antenna products and accessories which combined with our knowledge and technical support, creates a great experience for our customers. Our close relationship with the Tallysman team enables us to react quickly to customer requirements and find solutions to design problems. Innovelec continue to deliver value to both customers and suppliers, and we look forward to building bigger and better customer relationships through 2022 with continued strong growth " –Martin Newman, Sales Director, Innovelec Solutions.